The Story....
TEARSTAINED began officially in December 1995 with the obscure release of a one-song promo. This song, "Tearstained Nightsky", was the very first recording in my new Mortuary Temple 8-track studio. The music of Tearstained stood for all that is tortured and forgotten. Extreme melancholy and sadness hang over the songs like an albatross. In the early part of the summer 1997 some new recordings manifested. These new songs glorify extreme melancholy with a forlorn viewpoint towards humanity that exemplifies the concepts of nihilism, suicidal thought, and misanthropy. The vocals vary from totally grim Quorthon-like screaming, point-of-tears styled moans and cries, and old Mercyful Fate inspired singing. Not since the early Bathory albums has such a "sound" been captured. There are even two cover songs hidden on the end of this recording, as would become a feature of every future Tearstained CD. Promo rough mixes were sent out to various labels in the latter parts of 1997, and after receiving a phone call from Nihil of MORDGRIMM RECORDS in England (a sub-label of Cacophonous Records), a contract was signed for 3 albums. The debut CD was mixed and mastered at Watchmen Studio by Mikael and Doug White on February 26, 1998, and the final result is one of the heaviest recordings ever produced and recorded by Mikael. The songs on this debut CD are highly original, well-played, and draw heavy influence from old Bathory. You have never heard music like this before. It's almost in its own isolated genre.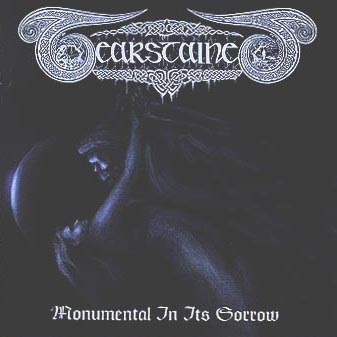 The debut CD "Monumental In It's Sorrow" was released in the last week of February 1999 on Mordgrimm Records (who also released debut CDs by Covenant, Osculum Infame, Thokk, & Blot Mine). The CD layout looks killer and I'm very satisfied with the outcome. It features coverart by J. Petagno, who's been featured in SOD Magazine and has done artwork for Bloodstorm, Avulsed, Edge Of Sanity, Led Zeppelin (Swan Song album logo and lettering), Motorhead (logo) and Alice Cooper (Billion Dollar Babies). The logo, which is a piece of art in it's own right, has been drawn by Kris Verwimp, another name that should be familiar to those in the underground. Now since the release of this album, Mordgrimm Records have disappeared. Only 2000 CDs were pressed and I am sold out of what few copies I had. So consider this version rare.
A re-issue of this album was released on Samhain 2005 on Barbarian Wrath. This album began the Suicide Trilogy. It received both rave reviews as well as shit reviews (called an Immortal clone?!?!?!). But it is a cult release that's been hard to come by. It has a new cover (see below), new photos, and 2 new bonus tracks recorded especially for this re-issue; "Dissociation" and "S.A.D.". The original album and the 2 hidden coversongs are intact as well, and remastered.
I still have copies of the re-issue for sale for $12.00.
Alas, after endless delays in dealing with Mordgrimm, a new label became the home for Tearstained. BARBARIAN WRATH Records will be releasing all future Tearstained albums. I was contacted by BARBARIAN WRATH Records because they are really into what Tearstained is about. The next several Tearstained CDs will be released on Barbarian Wrath as limited editions of 666 hand-numbered copies.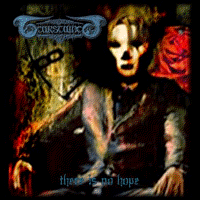 The first release was "There Is No Hope", the second CD and part II of the Suicide Trilogy. Released in 2001 this CD further expands on the Tearstained sound. Gaining alot of rave reviews and touted for it's hints towards the old school black metal (Mercyful Fate & Bathory) this album solidifies the Tearstained sound and further explores themes of suicidal thoughts, depression, despondency and melancholia. With a beefier production this album sounds like what Bathory's "The Return..." could have been. MP3's of a few songs are available for download and listening pleasure in the Barbarian Wrath website under the category "Releases" (scroll down to the Tearstained releases, 2 songs from each album are available). The coverart for this second CD is absolutely bleak! It is posted here, although I apologize for the poor quality. Also in the 2nd CD is some great photography by Evil Eye. The music is absolute DEPRESSIVE BLACK CULT!
I am sold-out of this release, unfortunately. Visit the Barbarian Wrath website....click on "The Basar" to visit their webshop. They have released some KILLER CDs by Megiddo, Morrigan, Grand Belial's Key, Sithlord, & Alastor. It is a pleasure to be a part of their roster of bands.


(August 2003)
2003: The third album, and Conclusion of the Suicide Trilogy, was released in the Spring of 2003 on Barbarian Wrath. Entitled "Final Thoughts" this album is above all a ripping assault on the senses. With the best vocal performance so far, this album has interesting hooks and twists, and further drags you down into an abysss of hopelessness and suicide. It is the conclusion of the "Suicide Trilogy" comprised of the first 3 albums, but not the end of Tearstained at all. This CD is THE Tearstained album! Grim and bitter songs that are laced with melancholy, despair and suicidal thoughts. I truly think this album has some of my best and most varied vocal performances: shrieks, grim voice, falsetto, and point-of-tears styled singing. Musically it's much heavier with alot of variety and moods within it. As with every Tearstained album, there are 2 hidden coversongs (one is always a Bathory song). Recorded entirely in Mortuary Temple Studios (as each previous album) and produced & Engineered by Mikael, the perfect mix of ripping guitars and driving basslines are offset by the Bathory-ish drums and grim vocals. Mixed & Mastered with genius Doug White in Watchmen Studios, this album simply floods your speakers with power. MP3's are available for downloading in the Barbarian Wrath website under the category "Releases" (scroll down to the Tearstained albums). There are a few songs from each album in MP3 format.
I am SOLD-OUT of this new album as of August 2004.
---
Now just because the Suicide Trilogy is concluding, that does not mean Tearstained will vanish. The re-issue of "