BURIED BENEATH "The Last Rays Of The Moon" 1998 CD
In early 1998 the CD was finally released. The curse is lifted! Vindication has been achieved! The CD contains over 65 minutes of music with an 8-page layout complete with band history, a personal diatribe and old photos. To learn more, just read on...........
Visit the new REVIEW pages here in my site, which includes reviews of the Buried Beneath CD. Cult? You decide.
Check out some MP3's my CLICKING HERE.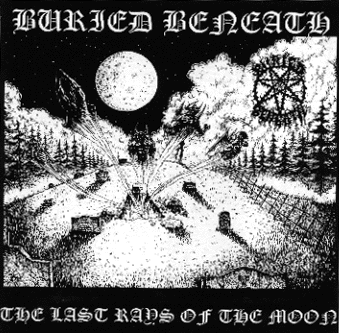 BURIED BENEATH was a black/death metal band that I, Mikael, played guitar in from it's formation in May 1992 until it's demise in August 1995. Basicly, I was never personally satisfied with the results of our demos, especially the vocals. When I wrote a song, I would bring it to the band with a certain "vision" in mind. I never fully attained this vision. After the band split up, me and Tim (bassist) began a new band called NIGHT CONQUERS DAY which subsequently went on to record 2 CD's that came out on HAMMERHEART Records in 1998 and 1999. But I still was bothered by the waste of time and energy that BURIED BENEATH had been, and with little recognition. BURIED BENEATH had also been fucked over twice. Our planned debut CD in 1994 never came out (the recording was released at the end of that year as our third demo), and a 7"ep planned for 1996 also never came out due to a slovakian assfuck who ripped us off! So in early 1997 I pulled out the reels for our 1993 and 1994 demos and "fixed" up the songs that I wrote. All of the vocals have been completely re-recorded (except for one song which retains original vocalist Jason) and keyboards have been added to the older songs that lacked them due to other members disinterest in them back then. A totally new mix was done at Watchmen Studio and now these songs sound more like they should've been......as I envisioned them to be.......dark, brutal and atmospheric Black-Death Metal; which is what Buried Beneath had always tried to encapsulate. A contract was signed with MAJESTIC UNION Records to finally put Buried Beneath onto CD. These new versions of old songs are joined by a track deleted from the NIGHT CONQUERS DAY debut CD recording sessions because it was actually a song composed while BURIED BENEATH was still actively rehearsing (consider it a CD bonus track). The CD layout has been put together by me and the Empress. The coverart (and CD title) is the art that was supposed to be on the never-released 7"ep. The CD booklet features art from various old bios, some never used art that was supposed to go in the never-released CD'94, plus some old band photos and typed lyrics. MAJESTIC UNION Records then acquired the assistence of english label DARK TRINITY Productions to press the CD's. So both labels collaborated on this release. There is also a Cassette MC version in Eastern Europe available. I got sent a copy of it, it's pretty fuckin' cool! They changed the layout to adapt it to the cassette version. One song was deleted though (the NCD song)
Although BURIED BENEATH is R.I.P., once more we arise from the dead to devour the living one last time before returning to the grave to be forever buried beneath the ages.......this time not so forgotten. The curse is lifted. Listen and experience.
BURIED BENEATH R.I.P.
"The Last Rays Of The Moon" 1998 CD
I am sold-out of the CD...check distro-lists!
MP3's (myspace site)